Mechanic Shop in Merrillville, Indiana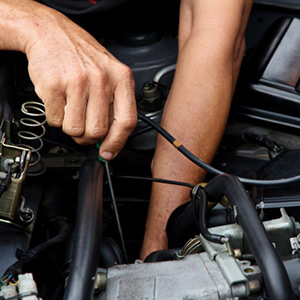 Wolf's Foreign Auto Service, Inc. has been providing high-quality foreign auto repairs in Merrillville since 1977. We offer a full range of services, from complete computer diagnostics to oil changes, alignments, brake changes and more. Visit our ASE-certified team today for all of your imported vehicle repair needs.
Merrillville Import Car Mechanics
When you drive a foreign-made vehicle, you know that one of the major challenges is finding a mechanic that has the necessary expertise to repair your vehicle in the event of a problem. As Merrillville's leader in import automotive mechanics since 1977, Wolf's is here to provide your vehicle with the precise and thorough services it needs. We offer a full range of repair and maintenance services, from oil changes to engine repair.
While there are other mechanics in the area, only Wolf's has a strong reputation for quality service built on nearly four decades of experience. Regardless of how well you care for your vehicle, it will need attention from an experienced mechanic from time to time. Wolf's has worked with countless customers to provide top-quality import car service in Merrillville, which means that you can always trust us to treat your vehicle with the utmost care and professionalism. Any time your foreign-made vehicle requires the type of attention only a skilled mechanic can provide, we hope you'll bring it to the team at Wolf's. For almost 40 years, our
customers have trusted us with their cars because:
We offer outstanding and highly skilled mechanic services on import cars and SUVs.
You can always depend on us to provide both careful and efficient repair services.
We service a wide variety of import makes and models.
We've been a proud local business since 1977.
We always aim to offer competitive and transparent pricing.
Our vehicle services include engine repair, transmissions, overhauls, air conditioning, radiator repair, emissions, suspension, steering system, fuel injection, brake repair, electrical repair and much more!